Meet the it-ER Ambassador at the Motor Valley Fest and get to know MUNER!
MUNER Talent Talk - Teatro del Collegio di San Carlo - Modena May 12, 2023 h 05:00 pm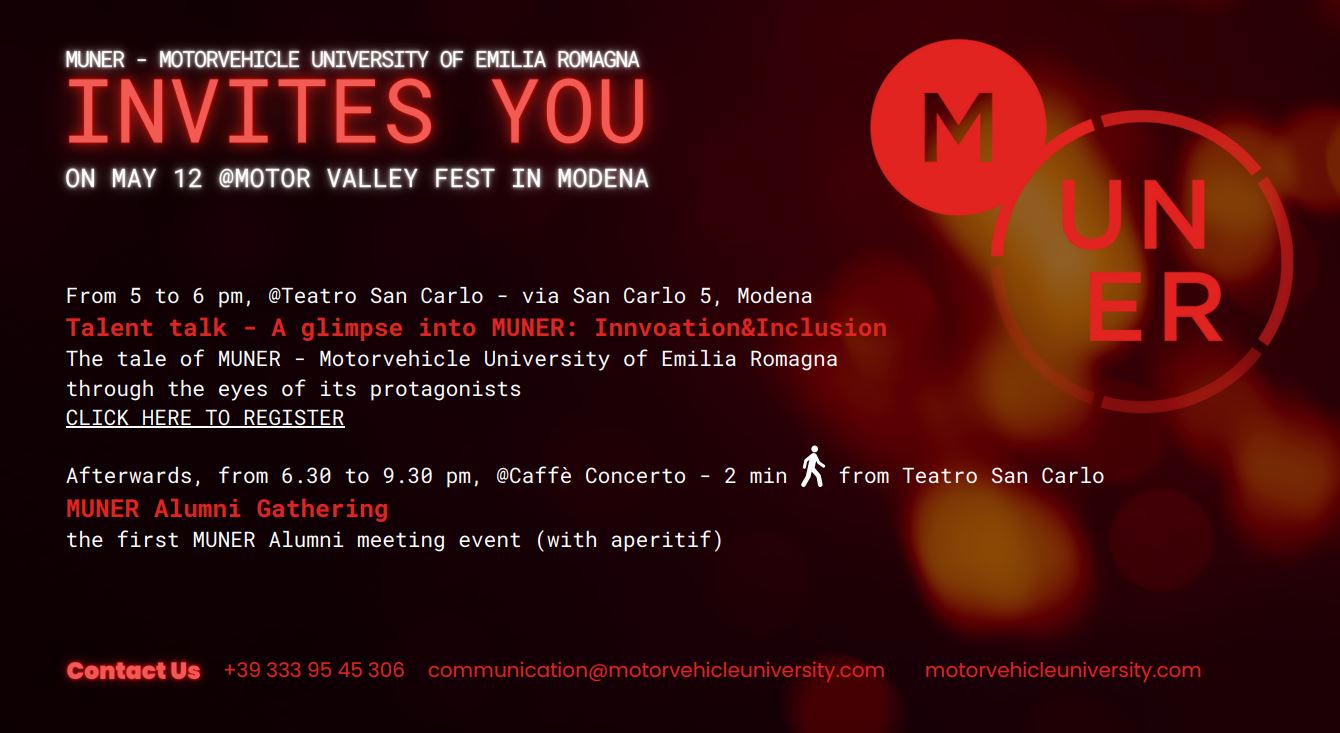 Motor Valley Fest, the great open-air festival of the Emilia Romagna Motor Valley, returns for its fifth edition from 11 to 14 May 2023, again in the capital of the most famous Motor Valley in the world, the city of Modena, a UNESCO World Heritage site.
For all motor enthusiasts, for insiders, for the national and international car community, the formula of the "Fest", which includes an intense calendar of conferences and round tables, exhibitions of cars from the Motor Valley brands, thematic meetings, parades, dynamic appointments and tastings, will be the most awaited spring event!
To get a glimpse into the place where students who want to become the new professionals in the automotive field and are willing to design road and racing vehicles, more sustainable propulsion systems and the subsystems for intelligent functions and production facilities in the pursuit of Industry 4.0. do not miss the "MUNER: Innovation&Inclusion" event where MUNER, the Motorvehicle University of Emilia-Romagna, will present its activities, with a special focus on inclusion. It will take place on May 12, 2023 at 5 pm at Teatro del Collegio di San Carlo in Modena. 
Main speakers:
• Soundous Drissi - Program Manager at MUNER
• Elena Bassoli - Full Professor in Technology and Manufacturing Systems at the Dept of Engineering "Enzo Ferrari" of UNIMORE and at MUNER
• Nicolas Casas Rey - Alumno MUNER, Test engineer Driveline Product Validation at CNH & it-ER Ambassador
Facilitator:
• Teresa Serra - Communication Manager at MUNER
To take part to the event, please register here